AT CAMP
The Bash on Vashon is for all ages and experience levels. It taps the talents of its participants. All events are led by campers with minimal organization provided. Adults and kids can contribute in many ways: by sharing a song or a story, teaching a dance or singing game, leading a craft or playing in a band. You may want to help organize a special event, lead a nature hike, play or call for the evening dance. There's a core of contradance and music workshops taught by our talented local participants.
Some folks come to take it easy, some come to dance until they drop. Some are just learning a new instrument, some are professional musicians. Some bring their family, some come to make new friends. There are enough activities for everyone, and various traditions: dance parties in the evening, a camper concert, a New Year's Eve Bash, a bonfire near the beach (weather permitting).
A sample of previous workshops: contras for everyone, children's dances and games, learning to call contras, chess lessons, round singing, poetry sharing, toy instrument band, Moldavian music and dances, Balkan singing, lantern making, and African dance. Every year there's something new!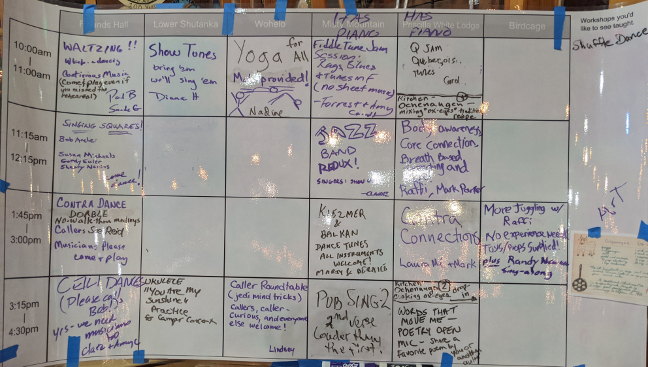 The Bash on Vashon happens at Camp Sealth on Vashon Island, a large, secluded site with over a mile of beach on the Puget Sound, acres of wooded trails, and a short ferry ride from West Seattle or Tacoma. Rustic, heated cabins are concentrated in three areas, each area sharing a bathhouse, and are designated for co-ed, men only, women only, and family housing.
Camp Sealth was originally a single-gender camp. Most of the clusters of cabins have both men and women's bath houses, but there is one group of cabins that has a coed bathhouse. However, scattered throughout camp are other showers and toilets for those who prefer privacy or single-gender facilities. Here's a map.
The dining/dance hall, Rounds Hall, is big enough for a dance area at one end and dining tables in the other. In addition to dancing, there are board games, jigsaw puzzles and other activities between meals. There is also a nice, big fireplace with couches - perfect for reading or snoozing. Camp Sealth has a no alcohol policy, and smoking is permitted only on the beach. Camp Sealth policy forbids pets, so please don't bring animals. The camp is limited to registered participants only, and no guests are allowed.
Camp begins the evening of Friday, with dinner provided. Plan to arrive after 3:30pm. During the day on Saturday and Sunday, there are camper-led workshops; you can sign up to teach something, or request something you'd like to learn. On December 31 we'll have our big New Year's Eve bash, called and played for by campers and followed by a bonfire on the beach (weather permitting). On Sunday evening, we'll have a camper concert followed by lots of dancing. Camp ends on Monday, January 1, after brunch and a last dance.
It would be delightful if electronics did not intrude on the camp experience, but that is no longer the world we live in. There is spotty cellphone coverage, which will sometimes support voice and text, but there is no WiFi coverage or high-speed cell data coverage. Expect that your shiny new 5G devices will operate at 3G speeds, if at all.
Meals
We try to cater to all food allergies and dietary restrictions, but if you are concerned about having enough to eat during the camp, you may bring "emergency rations" for yourself and store them in one of the refrigerators at camp available to campers. Snacks will be available during the evening dances. When you register, there will be an opportunity to request a special diet, and a form to let us know which foods are OK and which are problems for you. Camp Sealth has a no-alcohol policy.
Camper Jobs
One of the ways we keep the costs of camp down is to keep the number of staff low, so all participants over age 10 are requested to help with camp chores. If you offered on your registration form to help set up on the afternoon of =$evObj->start?>, you'll soon be contacted. Otherwise, you will sign up for a camper job when you register on arrival at camp. Jobs during camp include meal setup, cleanup and event organizing. Jobs requiring more time and responsibility are assigned to work/trade recipients.
Families
Families with children are welcome, but be aware that family housing fills up early and separate accommodation for individual families is extremely limited. We make every effort to group families together in 8-person cabins based on the age and gender of the children. Workshops with children in mind are encouraged, although no child care is provided.
"Wonderful, spontaneous, and organized without appearing to be."